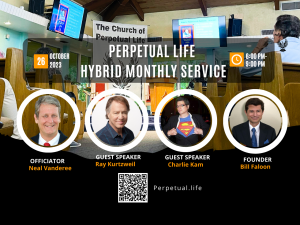 Perpetual Life Hybrid Halloween party 10/26 with Ray Kurzweil, William Faloon, Charlie Kam and Neal Vanderee
Metaphysical Singer Elaine Silver Performs Halloween Concert at World's First Transhumanist Church in Pompano Beach, FL
Live music w/ Elaine Silver 10/ 25. Ray Kurzweil v/ Zoom w/ Charlie Kam & William Faloon will be on location 10/26 for talks on AI, the future, Super Longevity.
We are excite to host the two days hybrid Halloween parties! It's a great way to celebrate the spirit of the season with uplifting music, informative talks, contests, food and "community.""
— Neal Vanderee, Officiator of Perpetual Life
POMPANO BEACH, FL, UNITED STATES, October 23, 2023 /EINPresswire.com/ — Perpetual Life, the first brick and mortar transhumanist church, is hosting two Hybrid Halloween events open to the public. Doors open at 6 PM EST on October 25th and 26th. The spirited celebrations will take place at the church's Pompano Beach location 950 South Cypress Rd., Pompano Beach, FL and will feature live music, author talks, food trucks, contests, drinks and more. Both events are live-streamed via Zoom and Youtube.
Calendar:
*At 6 pm on Wed. October 25 musical guest Faerie Elaine Silver will perform a Hybrid Halloween concert. Come in costume and enter the costume contest to win prizes. Malvo's Chill Spot Food Truck will be on hand.
To watch LIVE via Youtube:

https://youtube.com/live/gTkozc3cIbE
*On Thursday, October 26th at 6 pm, Perpetual Life welcomes author, inventor and futurist Ray Kurzweil via Zoom and on location with author Charlie Kam and cryonicist William Faloon. Another costume contest will be held. Attendees will also enjoy healthy food options and drinks.
To watch LIVE via Youtube:

https://www.youtube.com/watch?v=XsQXdqdLQWw
The upcoming Halloween gatherings at Perpetual Life are open to the public. Costumes are encouraged; not required.
RSVP is required to gain entrances. To register go to https://Perpetual.life or follow @LifePepetual on social media for more details. This is a great opportunity to experience the fun educational environment and community of a transhumanist church.
###
About Perpetual Life:
The Church of Perpetual Life is a science-based church that is open to people of all faiths, non-denominational and non-judgmental. It's a central gathering place for humanists, atheists, agnostics, and Transhumanists as well as people who are Christian, Jewish, Buddhist, and any other faith. What brings them together is their common hope and belief in the option of healthy Radical Life Extension. For more info visit https://churchofperpetuallife.org
About Ray Kurtzweil:
Ray Kurzweil is an acclaimed inventor, author, futurist, and visionary thinker. With a thirty-year track record of accurate predictions about the future, he is one of the world's leading voices on artificial intelligence and emerging technologies. Kurzweil invented the CCD flatbed scanner, omni-font optical character recognition, text-to-speech synthesizer, print-to-speech reading machine, and the first commercially marketed large-vocabulary speech recognition system. Among his honors are the National Medal of Technology and induction into the National Inventors Hall of Fame. He has authored five bestselling books including The New York Times bestsellers The Singularity Is Near and How To Create A Mind.
Ray Kurzweil: Singularity, Superintelligence, and Immortality | Lex Fridman Podcast #321

https://www.youtube.com/watch?v=ykY69lSpDdo
About William Faloon:
William Faloon compiled the 1,500 page medical reference book Disease Prevention and Treatment and his latest books are Pharmocracy and Pharmocracy II: How Corrupt Deals and Misguided Medical Regulations Are Bankrupting America and What to Do About It. He is also co-founder of Biomedical Research & Longevity Society (formerly the Life Extension Foundation), the Church of Perpetual Life, and the FDA Holocaust Museum.
To promote Life Extension's innovative medical concepts, William has been featured in hundreds of media appearances including The Phil Donahue Show, The Joan Rivers Show, Tony Brown's Journal, ABC News Day One, and Newsweek magazine.
What's delaying regenerative medicine? Bill Faloon at RAADfest 2023.

https://www.youtube.com/watch?v=nfaZ_0Rajdc
About Elaine Silver:
Elaine Silver is an acclaimed New Jersey-born singer-songwriter and metaphysical musical minister who has been performing for over 40 years. A gifted multi-instrumentalist and vocalist, Elaine grew up in a very musical family and was surrounded by music from an early age. She has released 22 albums, toured extensively across North America and Europe, and performed with folk legends like Arlo Guthrie, Pete Seeger and Doc Watson.
Elaine is the recipient of a Garden State Music Award for Outstanding Folk Performer and has been featured nationally on The Wisdom Channel and New Jersey Network's State of the Arts. Since relocating to Florida in 2000, she has evolved her musical mission into a Metaphysical Musical Ministry, performing and speaking at New Thought centers and progressive churches. She has worked with many best-selling mind-body-spirit authors as a musical accompanist, including Alan Cohen, Deepak Chopra, Wayne Dyer, Brené Brown and Marianne Williamson.
With her catalog of acclaimed recordings, captivating live performances, and uplifting message, Elaine Silver continues to touch listeners with her authentic voice and magical music. She is available for concerts, workshops, keynotes, and special events, bringing her talents to enlighten any audience. Her music is available on streaming platforms including Alexa, CD Baby, Pandora, Spotify, Amazon Music and possibly more.For more info or to book Elaine for an invent, go to https://elainesilver.com
Hallelujah by Elaine Silver

https://www.youtube.com/watch?v=_RCVeRiKgxk
Neal Vanderee
Perpetual Life
+1 954-789-1475
email us here
Visit us on social media:
Facebook
Twitter
Instagram
YouTube
Perpetual Life Hybrid Party w/ Ray Kurzweil, Charlie Kam, and Bill Faloon


Originally published at https://www.einpresswire.com/article/663504324/transhumanist-church-perpetual-life-pompano-beach-host-2-days-hybrid-halloween-events-including-ray-kurzweil-s-talk