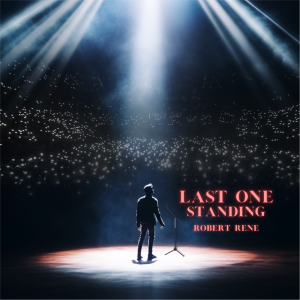 Part 3 of the Trilogy, "The Conclusion".
MONTCLAIR, CALIFORNIA, UNITED STATES, November 13, 2023 /EINPresswire.com/ — All Out Media and GDK Entertainment Firm are excited to announce the release of a fourth single, "Last One Standing", from California-based artist, Robert Rene. The single will be released on November 10th while the video will follow on November 17th..
Robert's first release, "Nemesis", was well received in the music community. It currently has 168,103 streams on Spotify. He followed "Nemesis" with the release of "Save My Heart". "Promises" was his third single release and part two of his video series, The Trilogy. "Last One Standing" will complete this video series. Robert's music is a unique blend of pop and dance infused with good vibes and amazing lyrics. "Last One Standing" is a pop/dance single.
What was Robert's inspiration? The inspiration for this particular single is one of Robert's favorite songs, "Nothing's Gonna Stop Us Now", by Jefferson Starship. This song was always very nostalgic for Robert and made him feel really good, so he wanted to create a song that gave that very same feeling. "Last One Standing" is a song about the power of love; love that overcomes all obstacles. A love that when the world is crumbling around you, the only thing left standing is THAT LOVE. The music video focuses on the love between two individuals. However, in reality, the love portrayed in this video could really be any kind of deep, powerful love.
The Trilogy was produced by Robert Rene, executive producer, Justin Felipe, Azul Wynter, Gerry Dorvil of GDK Entertainment Firm, and Kathleen Garcia, marketing director of GDK. Azul Wynter has produced for such artists as Post Malone, French Montana, and Cardi B. Gerry Dorvil has worked with artists such as Stevie B, C+C Music Factory, and El DeBarge. The single, "Last One Standing", can be found on all digital platforms such as Apple Music, Spotify, Amazon, Pandora, and Tidal after its release date. It will also be available for download at robertrene.com. Enjoy the epic story of The Trilogy.
Written by Rose Guthrie
Robert Laos Jr.
All Out Media. LLC
+1 929-442-6296
email us here
Visit us on social media:
Facebook
Instagram
YouTube
TikTok


Originally published at https://www.einpresswire.com/article/666523529/robert-rene-last-one-standing-part-three-of-the-trilogy