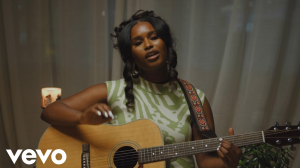 A Rising Star from the Heart of Chicago Releases an Empowering New Single
Completing this project is a dream come true! Music is my passion, and I am extremely grateful to have the opportunity to inspire and move people with my God-given talent,"
— Starlet
CHICAGO, ILLINOIS, USA, November 16, 2023 /EINPresswire.com/ — Starlet, the multitalented singer, songwriter, and producer hailing from the vibrant city of Chicago, has emerged as a true luminary in the music industry. With a background as a vocalist, pianist, and guitarist, Starlet's dynamic skills have garnered her a rapidly growing fanbase and has made her an inspiration to many.
Her debut album, "Take a Chance on Love", is a testament to Starlet's musical prowess. Her commitment and work ethic were further demonstrated in the completion of her debut album over a three-month period with relentless day-and-night dedication. The album was released in December 2017, featuring nine soulful tracks, and is entirely written, arranged, and produced by Starlet herself. Drawing influences from R&B, Soul, Pop, Jazz, and Gospel, the collection of songs has been praised for its relatable, timeless quality, weaving narratives that traverse the intricate journey of love – be it for others, oneself, or the divine.
Starlet's new single, "Never", is another jewel in her crown. Also written, arranged, and produced by the artist, "Never" serves as a powerful anthem of self-worth and empowerment. The song conveys a message of hope for those who have faced the challenges of heartbreak, encouraging listeners not to settle for anything less than the love they deserve.
Born into a musical family, Starlet's musical journey commenced in her grandfather's church at the tender age of two. Since then, she has been gracing various platforms across Chicago and abroad with her melodic talents. Notable performances include appearances at Mayor Daley's Bud Billiken Parade reception, the Kidz Korna Child Abuse Awareness Campaign, Rev. Jesse Jackson and the Operation Push Coalition, the birthday celebration of EGOT winner Jennifer Hudson, the inaugural ceremonies of both the Illinois House of Representatives and former Illinois Governor, the Englewood Music Fest and various fundraisers, corporate and community events. Recently, Starlet was chosen as a winner of the Chicago Major Record Label Showcase and Next Showcase USA's Emerging Artist Showcase where she was chosen as Top Female Performer. Starlet's accolades extend beyond the musical realm; she is a former Miss Chicago for the National American Miss Pageant and former HBCU Queen, reigning as Miss Norfolk State University 2018-2019. Armed with a Bachelor of Arts degree in Music, she embodies a unique blend of beauty, talent, and intellect.
Starlet's dreams extend far beyond her current accomplishments. By sharing her talent and body of work with the world, she aspires to inspire others to pursue their dreams. Her new single, "Never", was released alongside its debut visual on November 11, 2023.
"Completing this project is a dream come true! Music is my passion, and I am extremely grateful to have the opportunity to inspire and move people with my God-given talent," Starlet expresses.
Her single, "Never" and album "Take a Chance on Love" is available on iTunes/Apple Music, Spotify, Tidal, Google Play, Amazon Music, YouTube, and more.
For additional information, please visit OfficialStarlet.com. Booking and media inquiries can be directed to Debra Nichols at star[email protected] or by phone at 773-314-7268 / 773-440-9158.
Follow Starlet on her musical journey and witness the birth of a star that promises to illuminate the world with her extraordinary talent and inspiring message.
Debra NIchols
Star Studio Productions
+1 773-314-7268
[email protected]
Visit us on social media:
Facebook
Twitter
Instagram
YouTube
TikTok
Other
Starlet-"Never"


Originally published at https://www.einpresswire.com/article/668539261/recording-artist-starlet-unveils-empowering-anthem-never-a-tale-of-self-worth-and-love