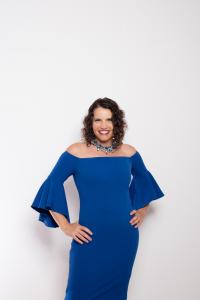 SANTA CRUZ, CA, USA, October 5, 2023 /EINPresswire.com/ — Sharon Papo, a dynamic and trailblazing executive coach, consultant, and LGBTQ+ advocate, has signed a publishing deal with CelebrityPress® to embark on an exciting new endeavor as co-author alongside the esteemed author Jack Canfield for the forthcoming book, "Success Redefined," set to be released in 2024. This groundbreaking collaboration promises to inspire readers to redefine success and achieve their aspirations authentically.
Sharon Papo's notable career is marked by her unwavering commitment to effecting positive change. As the visionary Founder and CEO of Indigo Skies Consulting, she has consistently propelled small and mid-size community-based organizations to excel in fundraising, collectively raising well over $100 million.
Sharon possesses a unique talent for guiding her clients beyond the mental and emotional barriers that often impede fundraising success. Her expertise lies in orchestrating major gifts and capital campaigns, transforming her clients' dreams into tangible and remarkable accomplishments.
In partnership with Dr. Cornell Verdeja-Woodson, Sharon co-founded LGBTQ eLearning, a company celebrated for its pioneering self-paced eLearning course, "Building LGBTQ+ Inclusive Workplaces." This course fosters understanding, compassion, and a greater sense of belonging in workplaces across diverse sectors. Sharon is recognized for her powerful keynotes and adept moderation of LGBTQ+ employee panels.
Sharon's academic journey exemplifies her dedication to making the world more inclusive. Armed with a master's degree from UC Berkeley's School of Social Welfare and a license as a clinical social worker (LCSW), she combines compassion with the skills necessary for meaningful growth at the individual, team, and company levels. Furthermore, Sharon holds a B.A. in Gender Studies from the University of California, Santa Cruz, and a Diversity and Inclusion certificate from Cornell University. This comprehensive educational background informs her holistic approach to fostering inclusivity.
The City of Santa Cruz, CA officially acknowledged Sharon's impact by declaring January 12, 2021, as "Sharon Papo Day" to honor her intersectional movement building and advocacy for the LGBTQ+ community.
Sharon resides in California with her wife and two vibrant children, who fuel her drive to create a world where everyone can thrive.
For those eager to embark on a journey of personal and professional growth with Sharon, she can be reached at [email protected].
CelebrityPress®
CelebrityPress®
email us here
Originally published at https://www.einpresswire.com/article/659954631/sharon-papo-joins-forces-with-celebritypress-to-co-author-success-redefined-with-jack-canfield