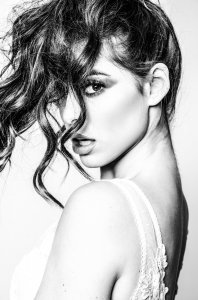 Rising Latin-American Pop Star Sasha Prendes Shakes Fans Worldwide With Honest Lyrics and New Music Video
…I love blending Spanish and English together in songs, because both languages embody who I am as a person and an artist."
— Sasha Prendes, Latin-American artist
NEW YORK CITY, NEW YORK, USA, August 11, 2023/EINPresswire.com/ — Fans worldwide are resonating with Sasha Prendes, the vibrant singer who sashays through sensually swinging dance tracks. Her first EP, 'No Really, I'm Fine', is filled with infectiously orchestrated changes, and lyrics that make a witty primer on avoiding toxic relationships and getting that grown-up love groove on. The artist's own emotional experiences fed into songs about learning – sometimes painfully — to insist on honesty and respect in relationships. Her musical truth combined with an incredible voice are swinging hips and shaking fans worldwide as "Shake This" soared to #1 on the World Indie Chart, #2 on the European Indie Chart and #8 on the Mediabase Rhythm chart.
Sasha had recorded previously: her own songs confronting the rough realities of her youth, in an array of styles, as if she was trying on genres like hats, to see what fit. Spotting her talent early, her parents got her music and dance training. Still, the young Sasha had challenges to overcome that left her shy, specially under the Internet's scrutiny. "But every time I veered away from music in some way, it always pulled me back like my Northern Star. I am so blessed and grateful I did follow that star. Moving to New York and making this music with Darrell was a maturing process for me. I learned you can have lyrics that are fun and yet have a deeper meaning, so you are crying and dancing at the same time. Now, that is cool. So many songs have got me through the craziest times of my life, and I want to be there like that, for everyone, in a positive way."
For this project, the artist had no problem temporarily handing over the songwriting reins, because teamwork found her voice. Teased by Sasha's tender, slightly husky phrasing, 'Shake This' takes a surprise direction when she's joined by Argentinian rapper, Sadier the Sensation, in a melodic pan-Latin embrace of the Jersey-born, Kansas-raised singer's Cuban roots. This knock-out charmer of an EP – and artist — is a fine way to launch veteran writer/ producer/ impresario Darrell Lawrence's new record label, AJA Live Inc., a conduit for his range of upcoming musical enterprises, with the vivacious, glamorous Sasha leading the charge. Introduced by a mutual friend, each recognized their musical match, and they share a classic artist/ writer connection. "We communicate telepathically," laughs Sasha. "He'll play me a song and I'm, like, how did you know that just happened to me?" Agrees Darrell, "As we found out more about each other, I was able to interpret a lot of what she felt instantly. Everything was infused with her personality."
Sasha grabs viewers with her trademark intelligence, humor, and class in the music video for her first single, 'Shake This.' Her fresh and witty approach to self-respect and commitment shines through in this exhilarating new release and commands the viewer to be roused from whatever is dragging them down. Written and produced by AJA Live Inc.'s very own Darrell Lawrence, "Shake This" delivers an expertly orchestrated fusion of sounds that seamlessly blends Latin influences with contemporary pop elements. Lawrence's production prowess provides the perfect foundation for Prendes' dynamic vocals and magnetic stage presence, creating a truly irresistible musical experience. "…I love blending Spanish and English together in songs, because both languages embody who I am as a person and an artist."
The official music video for 'Shake This' is available on LIT TV / Premium Television Network (ROKU, Android TV, Firestick, Samsung, LG, Amazon TV), ROCKTV ROKU Channels – ROCKTV MIX (ROKU), 'My Music Video Channel' / Saorsa TV Network (ROKU, Amazon Fire TV), Whatz Going On- WGO (Apple TV), OKTV – Germany / The Chubb Show -US (The Chubb Show App), on YouTube at: https://www.youtube.com/sashaprendes, and on numerous regional music video shows all across the nation.
Stay connected and up on all the latest with Sasha on social media platforms: Instagram: https://www.sashaprendes.com, TikTok: https://www.tiktok.com/@sashaprendes, on Facebook: https://www.facebook.com/sasha.prendes/, and at: https://www.sashaprendes.com.
Rive Music Video Team
Rive Video Promotion
+ + + +1 908-601-1409
email us here
Visit us on social media:
Facebook
Twitter
LinkedIn
Instagram
Sasha Prendes "Shake This" Official Music Video


Originally published at https://www.einpresswire.com/article/648847190/rising-latin-american-pop-star-sasha-prendes-shakes-fans-worldwide