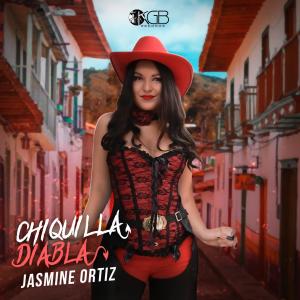 MIAMI, FL, USA, October 4, 2023 /EINPresswire.com/ — KGB Music and Management introduces the release of the highly anticipated single "Chiquilla Diabla" by Jasmine Ortiz featuring Daniel Darkan, and produced by 10X Platinum Producer SOG. The single will be released on 10/6/2023.
This is Jasmine's third single release of the year which have all been produced by SOG. The combination of Jasmine's sultry vocals combined with Darkan's rhythmic flow has been a success amassing over 2.1 Million streams on Spotify with their hit single "Te Exxxtraño" released in March 2023, and "En La Disco" with almost 1.4 Million streams on Spotify released in May 2023. In addition, "Te Exxxtraño" climbed all the way to #1 and ranked amongst the top 5 across different radio stations in Paraguay.
Over the summer, Jasmine and Darkan embarked on a South American tour immersing themselves in the Latin culture by traveling around Colombia and most recently in Paraguay. This highly-successful tour provided Jasmine and Darkan the opportunity to engage with their fans while also conducting a press tour across many radio and television media outlets. Most recently, Jasmine and Darkan performed in front of 20K people in Paraguay leaving a lasting impression of Jasmine's music.
As we are in the middle of Hispanic Heritage Month, Jasmine credits her time in Medellin, Colombia, for deepening her connection to her 'Latinidad' and the Musica Urbana culture. Living like a local on her first tour ever in Medellin allowed her to absorb so many new elements into her music all while experiencing the incredible fan base she has been able to build in Latin America.
For this next single, "Chiquilla Diabla" takes us on a journey of being a 'bad girl' toeing the lines of jealousy, seduction, and innocence while infusing the Latin Pop/Reggaeton elements of Musica Urbana and English Pop/R&B which has made Jasmine very successful. The music video which will be aired on HTV and Rumba TV will be seen across 74 countries as well as on Jasmine's YouTube channel that brings to life an old-fashioned cowboy showdown in Colombia demonstrating Jasmine's ability to transform from being innocent to one's 'bad girl". This hit single is already in high-demand and is currently on rotation across radio stations in Medellin.
Produced by SOG, the most sought-after Latin Producer in Colombia, knows what it takes to create a hit record and has already earned 10X Platinum status with chart-topping hits for Blessd, Ryan Castro, Rafi Pabón Pueblado, Reykon, and most recently Peso Pluma amongst other Latin artists. As 2022's Latin Plugs Producer of the Year Recipient, SOG executed another chart-topping hit with Jasmine's upcoming release of "Chiquilla Diabla" that is already expected to go viral.
Following these amazing artists:

www.instagram.com/iamjasmineortiz

www.instagram.com/danieldarkan

www.instagram.com/sogproducer
Pre-save and download "Chiquilla Diabla" today:

https://orcd.co/chiquilladiabla
For All Media/Press Inquiries Contact:
Dr. Jacqueline Yvette
Jacqueline Yvette Public Relations
email us here
Visit us on social media:
Twitter
Instagram


Originally published at https://www.einpresswire.com/article/659510462/pop-star-jasmine-ortiz-enters-the-fall-with-10x-platinum-producer-sog-for-new-single-chiquilla-diabla-in-high-demand