Girl Scouts Anaya Dube, Eisha Alam, Carolina Lopez, and Makayla Wilson performed a show-stopping opening act produced by TRUE Music Label | Photo courtesy of Kim Leeson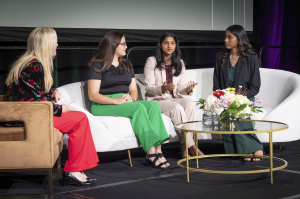 Elena Sacca Smith led a meaningful discourse with this year's Mary Anne Cree Young Women of Distinction, Aspen Cunningham, Kaaviya Shenbaharaman, and Anushka Sridhar | Photo courtesy of Kim Leeson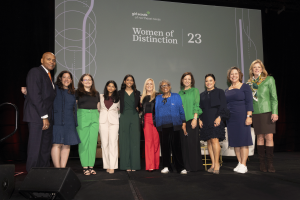 Honorees, event co-chairs, panel moderator, and GSNETX CEO gathered on stage for a culminating moment of achievement and celebration at the 2023 Women of Distinction Luncheon | Photo courtesy of Kim Leeson
The 19th Annual Women of Distinction Luncheon Blends Tradition with Innovation featuring the debut of original song by Grammy Award Winning Artist Dante Bowe
At a time when our world faces unprecedented challenges, the investment in girls and young women has never been more important."
— Jennifer Bartkowski, chief executive officer of GSNETX
DALLAS, TEXAS, UNITED STATES, November 6, 2023 /EINPresswire.com/ — Last Friday, the Girl Scouts of Northeast Texas (GSNETX) hosted the 19th annual Women of Distinction Luncheon (WDL). The esteemed luncheon is a catalyst for change and a celebration of exceptional community leaders of all ages, where every moment is an opportunity to inspire and be inspired. On the brink of its 20th anniversary, this year's luncheon embraced a new spirit of giving through groundbreaking fundraising, inspired panels, and show-stopping performances. It stood as a testament to the evolution of Girl Scouts of Northeast Texas, spotlighting the organization's agility in adapting its message while staying true to its core values.
Held at the Hilton Anatole, the sold-out event took on new heights with a new location, a new date, and a diverse lineup of honorees, including two Women of Distinction, Carol Goglia of Catch Up & Read and Bridget Moreno Lopez of Linebarger Goggan Blair & Sampson, LLP— and one Man Enough to Be a Girl Scout, Roland Parrish from Parrish Restaurants, Ltd. High school students and Gold Award Girl Scouts, Aspen Cunningham, Kaaviya Shenbaharaman, and Anushka Sridhar were recognized as the Mary Anne Cree Young Women of Distinction. In an extraordinary moment of recognition, Opal Lee, the "Grandmother of Juneteenth," at 97 years of age, vibrantly took the stage to accept the Lifetime Achievement Award — for her dedicated life of service, fighting for social justice and equality.
The event kicked off with an opening performance produced by TRUE Music that captivated the audience and set the tone for an unforgettable luncheon experience. Dante Bowe, GRAMMY Award Winning and multi-platinum recording artist and CEO of TRUE Music, crafted the empowering anthem for the Girl Scouts of Northeast Texas in collaboration with Shyspeaks' who wrote the spirited rap, and Brandon Bailey, who produced the rhythmic beat. Dante showcased his unwavering support for non-profits with this commendable in-kind gesture. He serves as an exemplary figure to the Girl Scouts, emphasizing the significance of giving back to his community and investing in skills-based volunteering.
The inspiration for this project was driven by Dante's desire to offer a positive counter-narrative for girls growing up in a digital landscape saturated with unattainable standards and negative messaging. Leveraging the power of music, Dante led a musical crusade to champion the true intelligence and confidence within all girls. Ultimately, the performance stood as an ode to the Girl Scouts of Northeast Texas' diverse fabric and a creative call to action, advocating for a focus on connection rather than the differences that often divide us.
"We are awestruck by the caliber of this year's honorees," Peggy Meyer, event co-chair, said. "These men, women and young women have not only achieved personal excellence but have lifted others on their journey, embodying the spirit of Girl Scouting and the power of every individual to make a positive impact." Her counterpart, Carmen Yung, emphasized, "As event co-chairs, we are honored to celebrate their substantial contributions that resonate with the core values of courage, confidence, and character."
Following lunch, Elena Sacca Smith led a Q&A session with the three Mary Anne Cree Young Women of Distinction, who spoke candidly about the current challenges faced by girls today and the positive impact Girl Scouts has had on their lives. During the Real Talk. Real Women. roundtable, the Lifetime Achievement honoree and Women of Distinction shared insights from their professional trajectories and provided advice for women and girls aspiring to follow in their footsteps. The panels were made possible thanks to our program sponsor IF/THEN, an initiative of Lyda Hill Philanthropies.
The sentiment shared among the honorees at today's event was unequivocal: mentorship is a cornerstone in building the confidence necessary for young women to thrive in their chosen careers and overcome societal barriers. Each of the three Mary Anne Cree Young Women of Distinction testified to the profound influence of their mentors, paralleling the Women of Distinction, who attributed their drive today and successes to the teachers and mothers who supported them growing up. Opal Lee connected her motivation to her experience as a third-grade teacher early on in her career, bringing the mentorship journey full circle. This gathering was a reminder of the ongoing need to bridge gender gaps, empower the next wave of female trailblazers, and foster the kind of exemplary leadership that paves the way for others.
At the end of the program, GSNETX announced it raised more than $500,000 during the event. The total includes a generous $30,000 matching gift from Nancy Ann and Ray Hunt. All funds raised during the luncheon will help GSNETX provide crucial programming for more than 19,000 girls in Northeast Texas.
"At a time when our world faces unprecedented challenges, the investment in girls and young women has never been more important, Jennifer Bartkowski, chief executive officer of GSNETX, said. "Women possess unique strengths and an inherent desire to elevate others that is vital as we navigate the complexities of the world today and work towards a future that values and benefits from diverse leadership."
###
 
We Are Girl Scouts
Whether they want to climb to the top of a tree or the top of their class, Girl Scouts of Northeast Texas empowers girls across 32 counties to unapologetically be themselves as they discover their strengths and rise to meet new challenges. Learn more at gsnetx.org or call 972-349-2400.
About Dante Bowe
Dante Bowe is a GRAMMY Award winning and multi-platinum musician and the CEO of TRUE Music. Dante made history as the first artist to have the greatest number of simultaneous GRAMMY nominations in both Gospel & Christian genres. His lyrics, infused with vulnerability and genuine experiences, invite listeners on a profound journey of self-discovery.
About TRUE Music
TRUE Music is an independent record label pioneering new approaches to the signing and development of recording artists and songwriters. Raising the level of authenticity in music will cause cultures, generations, and denominations to unite by merging gaps and removing all boundaries. For more information, visit www.truemusiclabel.com.
Stephanie Horne
Girl Scouts of Northeast Texas
+1 4699941629
email us here
Visit us on social media:
Facebook
Twitter
LinkedIn
Instagram
YouTube
TikTok
Grammy Award Winning Musician Dante Bowe Teams Up with GSNETX for the 2023 WDL Opening Performance


Originally published at https://www.einpresswire.com/article/666484906/philanthropy-resounds-as-the-girl-scouts-of-northeast-texas-celebrate-community-champions