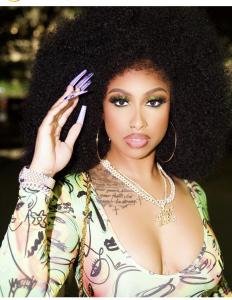 On The Road To Success With LALove The Boss: A Rising Star's Journey of Music, Passion, and Collaboration
NEW YORK, NEW YORK, US, November 3, 2023 /EINPresswire.com/ — Rising star, LALove The Boss, is currently on her press run to promote her latest single, 'Inside Out' and her tribute to Biggie titled "Play Me (WARNING) Freestyle." Her first stop was in Columbus, GA to visit G Smoove at WKZJ K-92.7 FM for New Music Monday, then to Atlanta to visit Trigger Alert, and 'The Bus Stop' to perform "Inside Out," but it was 'Lip Service Podcast' with Angela Yee and co-hosts Stephanie Santiago & Gigi Maguire, and Ms. Laura Mora is where she spilled all the tea and talked about her relationship with R&B singer and Love and Hip-hop co-star Khaotic.
LALove also 'Jumped Off The Porch' with Spitty W., over at Dirty Glove Bastard, where she gave more insight about her life and talked about her humble journey early on in her career until now.
LALove The Boss was born and raised in Glen Bernie, Maryland, and discovered her passion for music at a young age, She started writing poetry at the age of 9, and by 12, she had already written her first song, setting the stage for her musical journey.
LALove The Boss states that she draws inspiration from a diverse range of artists, including Andre 3000, Ludacris, Missy Elliot, Lauryn Hill, Biggie, and Tupac. Their influence has shaped her ability to tell her story and express her artistry in a truly authentic way.
In 2019, LALove The Boss released her debut EP 'How I Do It.' And, the EP's lead single "Flex On A Weekday" turned out to be a fan favorite among fans. Despite the challenges posed by the pandemic, LALove The Boss used this time to refine her sound and artistic direction hone her true sound, and skills, and emerge stronger than ever. With the musical guidance of executive producer 88 Fingaz, then later joined triple Grammy award-winner, Deezle, which later 88 Fingaz and Deezle developed a production partnership called The Box Bangers.
LALove The Boss demonstrates her versatility and ability to collaborate with industry icons by working with renowned producer Jazze Pha on their single "Get Money. Her momager Alease Garrett wrote the video treatment for the video, highlighting their close bond and shared creative visions. She cherishes her friendship with her mom, who also serves as her manager. LALove also, recently signed on a new co-manager, Tony Neal. The two met last year but just signed a couple of months ago. Tony is great and already making a difference in her career.
"Inside Out, produced by Eric "88 Fingaz" Parham, Darius "Deezle" Harrison, and Allison Whild, and written by LALove The Boss; promises to captivate listeners with its infectious beats and powerful passionate lyrics. This release marks another milestone in her journey toward becoming a household name in the music industry.
In addition to promoting "Inside Out," LALove The Boss is already working on a new EP where she plans to showcase her singing abilities even more. With collaborations in mind, she reveals her desire to work with artists like Drake, Jhené Aiko, Summer Walker, and Ari Lennox.
Aside from her music career, LALove The Boss has ventured into acting, and making waves in the film industry with appearances in movies such as "The After Party," "Bad Girls 1 & 2," and "First Lady II: Maria's Revenge." Her talent and dedication have earned her recognition as a SAG-AFTRA actress.
With the release of "Inside Out" which is now available on all major streaming platforms and an upcoming EP on the horizon, LALove The Boss is set to take over the music industry. Fans can expect her to continue an exciting press run, radio interviews, and a 7-Day Fitness Challenge coming soon. Stay tuned for more updates by following LALove The Boss on her social media platforms. The links are down below the video listed under "Visit us on social media:"
Beatrice E. Johnson
Polaris Music Group, LLC
+1 404-530-9940
email us here
Visit us on social media:
Facebook
Twitter
Instagram
YouTube
TikTok
Other
LALovetheboss On New Single "Inside Out", Making Over A Million Dollars On OF, Get You A Natural


Originally published at https://www.einpresswire.com/article/666002982/on-the-road-to-succes-with-lalove-the-boss