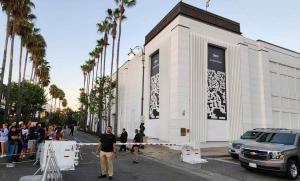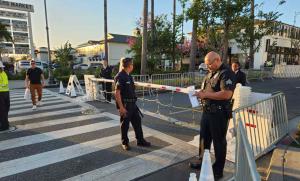 All roadways into The Grove were secured by Meridian Beam Gates
LARGE CLOSURE CALLS FOR BOTH ARCHER BARRIERS AND BEAM GATES
This was an enormous area to close off with several public streets and walkways leading into The Grove. We teamed with The Grove security, and police and fire to make sure every entrance was covered."
— Peter Whitford, Meridian CEO
LOS ANGELES, CA, US, October 13, 2023 /EINPresswire.com/ — When Taylor Swift secretly came to town for her highly anticipated Eras Tour concert film premiere, Meridian Rapid Defense Group was able to quickly answer the call to create a secure zone for Taylor and her 2,200 invited Swifties.
Organizers made the unprecedented decision to close down LA's upscale shopping destination, The Grove, for an entire day in preparation for the big night. While the massive red carpet was rolled out, Meridian's teams brought in Archer 1200 Barriers and Archer Beam Gates as part of the security plan.
Peter Whitford, Meridian CEO said, "This was an enormous area to close off with several public streets and walkways leading into The Grove. We teamed with The Grove security, and police and fire to make sure every entrance was covered."
Each of the streets was secured by the enormously popular beam gate. In all, seven Archer Beam Gates were needed. The ease of use of the gates allowed emergency vehicles and delivery trucks to still have access to restricted areas. Because the gates don't need electrical power or hydraulics to operate, they could be placed anywhere around the site and moved quickly as necessary.
"The Archer 1200 Barriers have been used at The Grove for several years now although for this particular event we brought in another 20 barriers," said Mr. Whitford. "We find that an increasing number of event organizers are choosing the Archer 1200 Barriers because they know they can be so easily moved. They are mobile but strong enough to stop a speeding vehicle if needed as we've seen in our crash tests."
The highly anticipated premiere attracted not only Swifties but celebrities including Beyonce, Mariska Hargitay, Adam Sandler and Flava Flav. With the open-air shopping, lifestyle and dining destination closed off for the occasion, the fans were able to spread out and even get one-on-one selfies with Taylor as she took her time walking the red carpet.
Both the Archer barrier and beam gate have undergone rigorous crash tests to ensure the highest level of safety. The Archer 1200 Barriers are constructed from 700 lbs. of American-made steel although because of their unique design and mobility can be easily moved by one person.
Meridian's Archer 1200 Barriers have been used for large-scale SEAR (Special Events Assessment Rating) Level 1 events such as the Tournament of Roses Parade and Game, the Presidential Inauguration, as well as NFL, MLS, and other locations. The product, as well as Meridian's deployment training, have been awarded The SAFETY Act Designation.
Meridian Archer 1200 Barriers are "SAFETY Act Certified" by the United States Department of Homeland Security (DHS) providing the ultimate standard in keeping people, communities and places safer. For more information about Meridian Rapid Defense Group and the Archer 1200 vehicle barrier visit www.meridian-barrier.com
Eric Alms
Meridian Rapid Defense Group
+1 213-400-9811
email us here
Visit us on social media:
Facebook
Twitter
LinkedIn
Instagram
YouTube


Originally published at https://www.einpresswire.com/article/661662692/meridian-creates-safe-zone-for-taylor-and-her-swifties