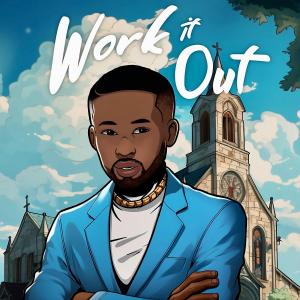 God is getting ready to work it out for you"
— MarQuez Curtis
USA, October 23, 2023 /EINPresswire.com/ — As temperatures drop, gospel musician MarQuez Curtis is turning up the heat with a new inspirational track, "Work It Out." The "soul-stirring" song, which was also written and produced by MarQuez, is the debut single from the Memphis artist's highly anticipated live gospel album, which is currently in production.
According to MarQuez, "Work It Out" delivers a profound message of unwavering faith and resilience; a sentiment he felt was essential to capture in his music considering the turbulent state of the world. As MarQuez puts it, "With so many challenges in the world today, the message of this song is even more powerful. 'Work It Out' reminds us that God is undefeated. No matter what, He will always work it out." The inspirational track is meant to spread a message of hope and faith in uncertain times.
MarQuez Curtis is a gifted gospel artist known for his inspirational, energetic, and uplifting music. He has been a musical guest on TBN's Praise the Lord, The Word Network, The Dorinda Clark Cole Show, and the Memphis Hard Rock Cafe. With a growing presence on major streaming platforms and an impressive list of live performances, Curtis is set to be a major force in the gospel music industry for years to come.
From a young age, he has been fine-tuning his signature music style, one that draws influence from Michael Jackson and legendary gospel artists The Clark Sisters, TuTu of the Truthettes, and Pastor John P. Kee. Since launching his professional career in 2016, he has been a dynamic force in the Memphis gospel music scene where he "aims to infuse positivity and hope through the transformative power of Christ and the uplifting nature of gospel music."
Fans and new listeners can hear MarQuez's music by following him on all major streaming platforms, including Tidal, Spotify, Apple Music, or on YouTube.
According to his fellow musicians, MarQuez Curtis is not just a gospel singer; he's "a beacon of light, a testament to faith, and a source of hope for the next generation in a world that needs it more than ever." Never shy to proclaim the gospel of Jesus Christ, MarQuez's upcoming single "Work It Out" continues to prove that music can heal, uplift, and inspire.
Mary Elizabeth Entrainment
email us here
Mary Elizabeth Entrainment
Visit us on social media:
Facebook
Instagram


Originally published at https://www.einpresswire.com/article/663248111/gospel-singer-marquez-curtis-releases-new-single-work-it-out