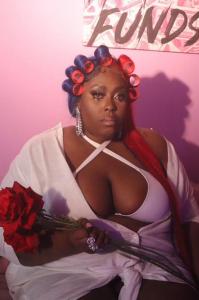 Zoey Brinxx performing live on stage, radiating energy and passion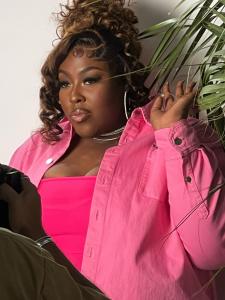 Close-up of Zoey Brinxx, her eyes reflecting determination and artistic passion
North Miami-based artist Zoey Brinxx is set to captivate listeners with her latest single, 'Heartbreaker'. In this deeply personal and emotive track,
MIAMI, FLORIDA, USA, June 23, 2023/EINPresswire.com/ — North Miami's rising talent, Zoey Brinxx, is ready to unveil her latest single, "Heartbreaker". Brinxx has already made a name for herself with her distinctive style, memorable red and blue hair, and empowering messages through her music.
With "Heartbreaker", Zoey Brinxx gives voice to the themes of heartache and resilience. The song narrates a journey from the pain of a failed relationship to finding strength in self-appreciation and personal worth.
Highlighting lines such as "Excuse my ego but you really lucked up / You gone have them looking at you like boy how you messed up" and "Not the Prada or Gucci can't flatter me with Chanel / Tired of bitterness / I'm wishing them well", the song speaks volumes about her commitment to advocating for self-confidence and overcoming adversity.
"Heartbreaker" is expected to solidify Brinxx's reputation as a compelling new voice in the hip-hop industry. Her forthright storytelling and unique musical flair separate her from the crowd, making her a standout among today's emerging artists.
Brinxx shares, "Music is my medium to express personal experiences and to resonate with others who may be dealing with similar circumstances." "Heartbreaker" is a perfect example of her dedication to authentic connection and expression.
The single "Heartbreaker" will be available across all music streaming platforms starting 06/23/2023.
For more updates on Zoey Brinxx and her forthcoming single, please visit her official website at www.Zoeybrinxx.com or follow her on @Zoeybrinxx.
About Zoey Brinxx:

Zoey Brinxx is a Haitian-American hip-hop artist captivating audiences with her unique musical style, potent lyrics, and advocacy for self-love and body positivity. Besides her music, Brinxx proudly presents her merchandise line, the Brinxx Love Collection.
Press Contact:

Maxsandra

[email protected]

754-423-0308
MAX Sandra
Brinxx squad Entertainment
+1 754-423-0308
email us here
Visit us on social media:
Facebook
Instagram
YouTube
TikTok
Other
Heartbreaker- Zoey Brinxx


Originally published at https://www.einpresswire.com/article/641108047/from-pain-to-power-zoey-brinxx-unleashes-her-resilience-in-new-single-heartbreaker