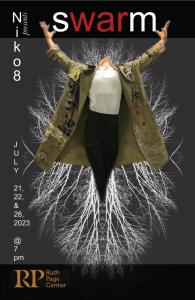 Chicago's newest professional dance company presents a heart pumping world premiere and inaugural evening length ballet choreographed by Sean Roschman
this is a post apocalyptic rock concert fused with contemporary dance and truly cutting edge design. You won't be bored, that's for sure."
— Sean Roschman
CHICAGO, IL, UNITED STATES, June 22, 2023/EINPresswire.com/ — Niko8, a new Chicago-based performance collective led by cutting edge director/choreographer Sean Roschman, presents its inaugural work SWARM. Choreographed by Roschman, Swarm tackles the dichotomy of the collective and the individual through powerful movement and dance. "This ballet is not your typical evening at the Theater- this is a post apocalyptic rock concert fused with contemporary dance and truly cutting edge design. You won't be bored, that's for sure." says Roschman.
Set to a heart-pumping score fusing Nordic folk music and heavy metal, Swarm follows a tight-knit group as their fierce loyalty to one another is tested by a charismatic outsider. Honoring the human need to belong while confronting the violence that often accompanies absolute conformity or nonconformity, Swarm is a visceral and striking work of dance theater. "I wanted to create a piece that explores how we navigate between submitting to a group identity and honoring our own sense of self," said Roschman. "There is a primal human drive to be part of a community, but what happens when that community demands more of ourselves than we are willing to give? Swarm seeks to unpack these complex and often contradictory human impulses through the raw, emotional language of dance and physical theater. "
Swarm features a cast of nine dancers, including Sophie Allen, Catie Armbrecht, Hanna DiLorenzo, Kathryn Hetrick, Jana Kalivoda, Anouk Otsea, Michelle Skiba, Sophia Smith, and Sarah Sterling, with costumes by Eileen Connolly and Production Design by Brian Owens
Niko8 is an artistic incubator supporting the creative process of presenting evocative new works of live performance. Led by director Sean Roschman, Niko8 seeks to infuse rigorous movement with a heightened theatrical sensibility and bold visual design to enrich and reinvigorate the power and accessibility of live performance.
Performances of Swarm will run July 21, 22 and 28th at The Ruth Page Center For The Arts in Chicago starting at 7PM .
Tickets are $10-25 and can be purchased at www.niko8.com .

For more information, visit niko8.com.
About Niko8

Niko8 is a Chicago based performance collective led by director Sean Roschman. We create original works of dance theater that explore the human experience through a hybrid of movement, visual design, and storytelling. Our mission is to support artistic risk-taking and make the power of live performance accessible to all.
Sean Roschman
Sean Roschman/Niko8
+1 630-710-1452
email us here
Visit us on social media:
Facebook
Instagram
Swarm Trailer


Originally published at https://www.einpresswire.com/article/640941175/chicago-s-newest-dance-company-niko8-presents-swarm-a-new-ballet-set-to-nordic-metal-rock-fusion