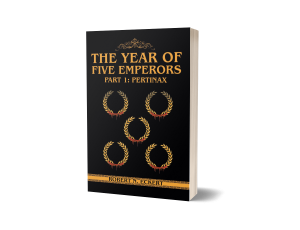 Author Robert Eckert crafts a mesmerizing tale of intrigue and power in ancient Rome through the pages of his latest opus
TORONTO, ONTARIO, CANADA, November 3, 2023 /EINPresswire.com/ — Embark on a captivating journey into the intriguing world of mid-imperial Rome with the extraordinary literary accomplishment of indie author Robert Eckert, The Year of Five Emperors: Part 1: Pertinax. Through impeccable research and expert craftsmanship, Eckert offers readers a glance into a crucial time in Roman history, transporting them to a society on the brink of collapse.
The Year of Five Emperors: Part 1: Pertinax captures the essence of a society in flux, where religion plays a pervasive role. Eckert adeptly examines the enduring influence of Roman beliefs, alongside the rise of Stoicism as an alternative philosophical guide for the educated elite. The narrative also unveils the quiet growth of Christianity, despite its illegal status, as well as the unwavering faith of Jews and Samaritans amidst shifting societal norms.
Eckert's ability to seamlessly shift perspectives from one chapter to another immerses readers in the power struggles of Rome's capital and the intricacies of its far-flung frontiers. His lifelong fascination with linguistics and history and his diverse academic background, including degrees in philosophy, law, and mathematics, have greatly influenced his meticulous approach to research and his ability to recreate ancient worlds.
While currently teaching mathematics in the Detroit area, Eckert's commitment to historical storytelling is evident in his ability to breathe life into the past, captivating readers with his engaging prose.
Get ready to be enthralled by Robert Eckert's masterful storytelling as The Year of Five Emperors: Part 1: Pertinax is now available for purchase on Amazon in paperback and e-book formats.
About Bookside Press:
Bringing stories and ideas to life, one tap at a time.
Bookside Press is all about creating buzz in the digital world. Buzz that'll have each vital message be heard loud and clear. Headquartered in Canada, this hybrid publishing and advertising company aims to share the magic of its authors' books with the world. With a dedicated team of creatives and marketing professionals, Bookside Press collaborates with clients in building better brands that stand out and reach greater heights.
EMMANUEL LAGUARDIA
Bookside Press
+1 877-741-8091
email us here
Visit us on social media:
Facebook
Twitter
Instagram
YouTube


Originally published at https://www.einpresswire.com/article/666155710/the-year-of-five-emperors-part-1-pertinax-offers-a-glimpse-of-a-bygone-era-in-the-midst-of-a-profound-shift