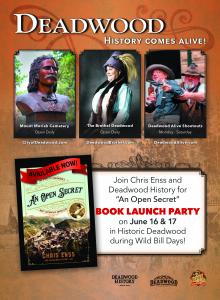 An Open Secret Book Launch in Deadwood
This book does not glorify the profession of prostitution, but presents well documented researched facts of life and what was actually going on behind the red lights, purple doors, or Cozy Rooms."
— Actress Geri Jewell from the HBO Series Deadwood
DEADWOOD, SOUTH DAKOTA, USA, June 1, 2023/EINPresswire.com/ — DEADWOOD – The official launch of American author Chris Enss' latest book, An Open Secret, focuses on infamous cat houses like the Beige Door, those individuals who managed the businesses, their employees, their well-known clientele, the various crimes committed at the locations, and their ultimate demise. An Open Secret: The Story of Deadwood's Most Notorious Bordellos by New York Times bestselling author Chris Enss and Deadwood History, Inc. focuses on the brothels and the women who worked in the oldest profession in the ferocious town.
Among the most notable Deadwood soiled doves and brothel owners were Dora DuFran and Al Swearingen. The names of the some of the most popular brothels in Deadwood Gulch were the Shy-Ann Room, the Beige Door, and the Shasta Rooms. After more than a hundred years of continual operation, the brothels in Deadwood were forced to close in 1980.
To kick off the book launch, Deadwood History, Inc. and the Deadwood Historic Preservation Commission will host History on the Lawn with Chris Enss at the Historic Adams House at 12:00 p.m. on Friday, June 16, 2023. Following the presentation, Enss will sign copies of her books along with the author of Cat Tales of the Old West: Poems, Puns & Perspectives on Frontier Felines. In Cat Tales of the Old West award-winning author Preston Lewis brings frontier felines into the light of the twenty-first century with a collection of amusing and eclectic excerpts from dozens of nineteenth century frontier newspapers reporting on pussycats west of the Mississippi River. The lecture and book signing is free to Deadwood History members and $5 for non-members. Please feel free to bring your lunch and a lawn chair. For more information call 605-722-4800. In case of inclement weather, the lecture will be moved to the Homestake Adams Research and Cultural Center (HARCC), 150 Sherman Street, Deadwood.
On Saturday, June 17, 2023, Enss will be signing copies of her book, An Open Secret, at The Brothel Deadwood from 11:00 a.m. to 6:00 p.m. This event is open and free to the public. Donations are appreciated. Stop by and meet Enss and tour The Brothel. Snacks and beverages will be served throughout the day. The Brothel is located at 610 Main Street across from the Mineral Palace and Gem Steakhouse & Saloon.
Chris Enss is a New York Times bestselling author who has been writing about women of the Old West for more than thirty years. She has penned more than fifty published books on the subject. Her work has been honored with nine Will Rogers Medallion Awards, two Elmer Kelton Book Awards, an Oklahoma Center for the Book Award, three Foreword Review Magazine Book Awards and the Laura Downing Journalism Award.
For more information contact Rose Speirs at Deadwood History, Inc. at 605/722-4800 or visit www.chrisenss.com.
Chris Enss
Chris Enss
+1 916-216-0995
email us here
Visit us on social media:
Facebook
Twitter
Instagram
YouTube
An Open Secret


Originally published at https://www.einpresswire.com/article/635835753/an-open-secret-exposed-during-deadwood-s-wild-bill-days