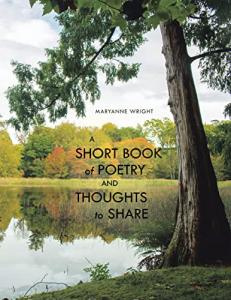 TOMAH, WISCONSIN, USA, June 21, 2023/EINPresswire.com/ — ABOUT THE BOOK
This short but inspiring book of poems and thoughts is about life, family, seasons, and nature which was written during Covid. This alludes to happier times when you were naïve to think that you could depend upon the world staying as it was. Throughout Covid and during lockdown, I found joy in the small and simple things in life. Like walking in the park in the rain. Remembering the happier times of life. This beautifully written book is for lovers, dreamers and those who weep. All have parts in this book to read. For I have experienced and seen all that life can bring and I am still experiencing them now.
ABOUT THE AUTHOR
Maryanne was born in England from a Celtic background. She has lived in different countries and now lives in Cambridge, New Zealand. Maryanne loves walking her dog and cycling. She works in the education sector and is a specialist in adult literacy and numeracy. Maryanne's message is to find joy in everything you do and everywhere you go. Life is here to be enjoyed.
You can watch her TV Interview with Logan Crawford thru this link: https://www.youtube.com/watch?v=H3k0CtEP3o4&feature=youtu.be. Also, you may use this link to purchase her book on Amazon https://www.amazon.com/dp/B09RGYKCYY?ref_=cm_sw_r_cp_ud_dp_QPYPQ6SVYRACQPRQJJEM.
Luna Harrington
Prime Seven Media
+1 414-882-5318
email us here
Visit us on social media:
Facebook
Twitter
A Short Book of Poetry and Thoughts to Share – on Spotlight with Logan Crawford


Originally published at https://www.einpresswire.com/article/640505464/a-short-book-of-poetry-and-thoughts-to-share-by-maryanne-wright