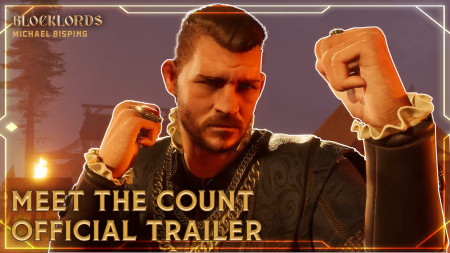 Press Release
•

Aug 11, 2023
In an exciting blend of mixed martial arts and medieval strategy gaming, UFC World Champion Michael Bisping is making his highly anticipated return to fighting, but not as you've known it before. Teaming up with Medieval Grand Strategy trailblazers BLOCKLORDS, developed MetaKing Studios and backed by renowned gaming giants Square Enix, Krafton, and FunPlus, Bisping will be entering the virtual battlegrounds as a one-of-a-kind hero 'The Count'.

LOS ANGELES, August 11, 2023 (Newswire.com)
–
Announced with a stunning and epic in-engine trailer voiced by Bisping himself, where his virtual BLOCKLORDS character teaches some lowly farmers the ropes, this collaboration promises to be a game-changer for both UFC and gaming fans alike.
Bisping, known for his relentless style and legendary status in the UFC, will be featured in BLOCKLORDS as the strongest stat hero to date. Players will have the unique opportunity to engage with the legend in ways never seen before.
1500 Bisping Warriors in 6 Variations: A New Battle Awaits
The excitement doesn't stop with the hero himself. BLOCKLORDS will release 1500 Bisping Warriors in six variations, allowing players to experience a new layer of strategic warfare. These special characters will be made available to the game's player base in the coming weeks.
Owning one of these exclusive Bisping Warriors will unlock a never-before-seen Bisping Adventure. This unique content provides both long-time followers of Bisping's career and new fans alike a chance to be part of his virtual world.
Join the Adventure Today
BLOCKLORDS, backed by Square Enix, Krafton, and FunPlus, is renowned for its intricate gameplay and strong community engagement. Bisping's inclusion marks a major milestone in the continued growth of this beloved game.
"We're thrilled to have Michael Bisping join BLOCKLORDS, and we can't wait for our players to experience this new level of adventure. Mike has always been so passionate about what we're building, and we're excited to work on this together," said David Johansson, Founder at MetaKing Studios. "It's an unprecedented fusion of sports and gaming, and we believe it will set a new standard in interactive entertainment."
BLOCKLORDS limited Bisping Hero Chests are now available, featuring his real family crest! 
For more information, visit BLOCKLORDS or follow BLOCKLORDS on https://linktr.ee/blocklords 
Source: MetaKing Studios
Related Media
Originally published at https://www.newswire.com/news/ufc-world-champion-michael-bisping-makes-unprecedented-return-to-22103639