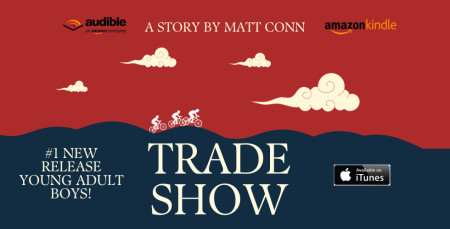 Press Release
•

Aug 3, 2023
Comedy Productions, a talent agency that has represented comedians and their work for the past 40 years, is proud to announce the release of the humorous young adult fiction book "Trade Show" by one of their comedians, Matt Conn.

GROSSE POINTE, Mich., August 3, 2023 (Newswire.com)
–
Brace yourselves for a trip down memory lane as comedian Matt Conn introduces his debut young adult novel, "Trade Show." Set against the backdrop of 1990s suburban Detroit, this captivating story follows the misadventures of 12-year-old Sam, who embarks on a quest to retrieve his stolen bike and inadvertently finds himself entangled in a world of baseball cards, bullies, and brilliant schemes.
"Trade Show" brings to life the vibrant spirit of the 1990s, when kids spent their days exploring neighborhoods on their bikes and trading baseball cards. The heartwarming narrative revolves around Sam's ingenious plan to corner the market on the hometown hero's Rookie card. As the awe-inspiring season unfolds, Sam's mission to elevate the card's value by limiting its availability leads him through a series of comedic encounters with neighborhood bullies and eccentric characters. 
In a nostalgic return to the simpler joys of life, "Trade Show" captures the essence of carefree bike rides and the excitement of chasing after dreams. Conn's expert storytelling paints a vivid picture of a bygone era, resonating with both young readers and adults who yearn for a taste of the past. The novel weaves a delightful tale that effortlessly balances laughter and life lessons. 
"I wanted to create a story that transports readers back to a time when things were a bit simpler, and kids embarked on grand adventures with nothing but determination and their bikes," said author Matt Conn. "Sam's journey reflects the universal themes of perseverance, friendship, and the magic of childhood, all wrapped up in the vibrant suburban setting of the 1990s." 
"Trade Show" is a heartwarming narrative that appeals to readers of all ages. Conn's background in comedy shines through as he masterfully infuses the story with wit and humor, making it a delightful read for both young and adult audiences. The novel serves as a gentle reminder of the power of imagination, friendship, and the bonds that shape our lives. 
Don't miss your chance to relive the 1990s through the eyes of Sam and his unforgettable adventures. "Trade Show" is available for purchase on Amazon, and additional information can be found at www.MattConnComedy.com. 
Source: Comedy Productions
Originally published at https://www.newswire.com/news/step-into-the-nostalgic-world-of-suburban-detroit-in-trade-show-by-22098566