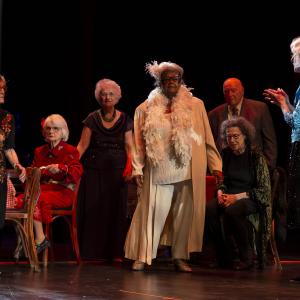 FLORENCE, MASSACHUSETTS, UNITED STATES, October 17, 2023 /EINPresswire.com/ — Young@Heart Chorus, a renowned and beloved musical ensemble, is thrilled to announce two exciting upcoming events that promise to captivate audiences with their unique blend of music and artistry. Led by Bob Cilman, Artistic & Executive Director and Founder of Young@Heart Chorus, these events showcase the group's extraordinary talents and artistic vision.
Event 1: "Twist & Crawl"

Date: Sunday, November 19, 2023

Time: 3:00 PM

Venue: Academy of Music Theatre, Northampton, MA

Ticket Information: https://www.aomtheatre.com/event/younghearts-annual-fall-production/
"Twist & Crawl" is Young@Heart's latest production, promising an unforgettable experience for all attendees. This spectacular show will take place at Northampton's historic Academy of Music Theatre, a venue renowned for hosting top-tier artists and performances.
Young@Heart Chorus has earned a stellar reputation for its previous work, including being the subject of the multi-award-winning documentary "Young@Heart." The group's unique blend of music and choreography promises to deliver an evening of entertainment that will leave the audience enthralled.
The Academy of Music Theatre, a prestigious music venue in Northampton, adds to the allure of this event. Hosting illustrious figures like TV presenter Rachel Maddow, comedian David Sedaris, actor/comedian David Cross, comedian Daniel Sloss, comedian Ashley Gavin, and the band the Jayhawks, the Academy of Music Theatre is a cultural hub in its own right.
Event 2: "Young@Heart: Live at BOMBYX"

Date: Spring 2024 (Exact date TBC)

Venue: BOMBYX Center for Arts and Equity, Florence, MA

More Information: Coming Soon
Young@Heart Chorus will also be performing live at BOMBYX Center for Arts and Equity in Florence, MA, as a resident company. The show, set for spring 2024, will feature an eclectic mix of songs from Young@Heart's extensive repertoire.
BOMBYX, a center with a rich history of hosting top-tier artists, has garnered critical acclaim for its support of the arts. Previous performers at BOMBYX include Grammy-nominated musician Bettye Lavette, multiple Grammy Award-winning singer-songwriter Shawn Colvin, the Grammy-winning band Ranky Tanky, Grammy winner Arooj Aftab, eight-time Grammy Award-winning jazz bassist Christian McBride, Rock & Roll Hall of Fame member Jorma Kaukonen, Grammy-winning pianist Bill Charlap, and the iconic Irish band Dervish.
Julia's van IJken will play a leading role as a Music Events Producer for these events. She will oversee every aspect of production, ensuring a seamless and captivating experience. In addition to co-creating the shows with chorus director Bob Cilman to choreography, costuming, lighting, and more, Ms. van IJken will ensure that these events are nothing short of extraordinary. She will also oversee the recording and filming of the production for future virtual broadcasts to a national and international audience.
Ms. van IJken brings outstanding experience to the productions above. She is the Recipient of the 46th Boston/New England Emmy Award: Ms. van IJken's work as the editor of Young@Heart's 40th Anniversary Film earned the prestigious Boston/New England Emmy in the Special Events Coverage Category in June 2023.
Young@Heart Chorus invites everyone to join them for these exceptional events, promising an unforgettable fusion of music, dance, and artistry.
For media inquiries and interview requests, please contact:

Bob Cilman

Email: [email protected]
About Young@Heart Chorus:

Young@Heart Chorus is a renowned musical ensemble known for its innovative and captivating performances with a group of performers who range in age from 75-94. Founded and led by Bob Cilman, the group has earned a devoted following for its unique blend of music and artistry. With a commitment to pushing artistic boundaries, Young@Heart Chorus continues to inspire audiences of all ages.
For more information, visit https://www.youngatheartchorus.com
Bob Cilman
Young at Heart Chorus
[email protected]
Visit us on social media:
Facebook
Instagram


Originally published at https://www.einpresswire.com/article/662469173/young-heart-chorus-presents-two-upcoming-events-twist-crawl-and-young-heart-live-at-bombyx