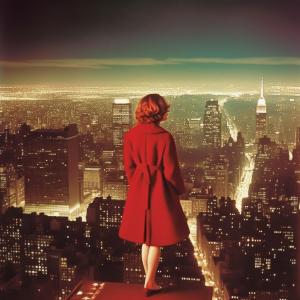 With rich, captivating lyrics, SAER's latest single offers a deeply personal and compelling narrative set against the backdrop of New York.
spine-tinglingly dynamic and full of expression"
— FreshOnTheNet – FreshFaves
BIRMINGHAM, WEST MIDLANDS, UNITED KINGDOM, July 23, 2023/EINPresswire.com/ — Up-and-coming artist SAER announces the release of his latest single, 'NYC', set for July 28th, 2023. Evoking the towering skyline and gritty allure of New York, the mid-tempo track melds a sophisticated blend of Rhodes, brass, and epic guitar with SAER's powerful vocal performance.
'NYC' immerses listeners into a world of avenues and subways, a world stirred by a thirst for connection and the thrill of the city's hidden depths. SAER's lyrics are a poignant testament to the city's relentless, furious energy, as he proclaims it to be his 'glorious fighter', and alludes to the empowering force it imbues.
The track is an exploration of duality, mirroring the city's capacity to cradle and challenge, to cage and liberate. SAER's curious and enticing lyrics describe the city as having an almost human-like presence, a protective entity that he reveres, and from whose icy breath and rising smoke he draws inspiration and strength.
The video for 'NYC', brought to life by director Paul Griffin, showcases a unique blend of advanced technology and artistic vision. Utilising Stable Diffusion and learning the craft in prompting, Griffin was able to visually echo the song's lyrical metaphors through AI-generated imagery. Although the creation process was entirely AI-driven, mastering the nuances of this cutting-edge technology and ensuring that the resulting piece told the story as intended, presented a fascinating challenge. The final product is a skilful negotiation of the intersection between technology and art.
SAER, known for his poetic lyrics and distinctive sound, continues to captivate audiences with his emotive storytelling. His ability to masterfully navigate dynamic musical landscapes while conveying deeply personal narratives sets him apart in the industry. With 'NYC', SAER continues to push boundaries, offering listeners a unique sonic experience.
SAER is a musical project by UK Birmingham-based vocalist, multi-instrumentalist and producer Simon Davies. Described as "hauntingly beautiful" by BBC Music Introducing, SAER is an artist known for captivating audiences with his mesmerising vocal performance. His soaring falsetto and sophisticated melodies deliver poetic lyrics with zeal and sensitivity in equal measure. An emotive singer with a distinctive voice, SAER's songwriting embraces the curiosity and vulnerabilities of human nature.
UK-based SAER, performing an experimental blend of electronic pop and folk with cinematic sensibilities, is making a name for himself through live performances and independent releases. A multi-instrumentalist, his music moves effortlessly between stormy electronic soundscapes and minimalist heartfelt laments. Drawing influence from artists like Jeff Buckley, Nick Drake and Imogen Heap, SAER creates a contemporary sound that is both unique and intriguing.
Since his debut single 'Shadows' in 2018, SAER has independently released multiple EPs and singles. His previous release 'Walking On The Moon', a cover of The Police was reviewed by 'York Calling magazine' coining it as 'wonderfully intimate yet cinematic'.
The singer, songwriter, and producer works from his home studio, a hive of creativity where his ideas are woven with soundscapes and poetry into masterful productions. SAER's original material has garnered national radio play and praise from original charting artists for his covers, which include a dark and cinematic take on 'Walking On The Moon' The Police, Brian Wilson's 'Good Vibrations' and an ambient folk interpretation of The Weeknd's 'Blinding lights'.
He gathered acclaim for an emotional dedication to his late Father, 'Start A Fire' with BBC 6 Radio and released 'Call Me Out' with Baby Woman Records, winning international support for this song written for his daughter. SAER's release earlier this year 'Whistle Your Part' was picked up by luxury auto brand Bentley for use in a visual project to celebrate Earth Day. SAER performs live at festivals and venues around the UK as an artist within London's Talentbanq Roster.
In 2018, SAER participated in The Voice UK, his performance stirred significant social media and press interest, for his electrifying rendition of Harry Styles' Sign of the Times, receiving approval from all four judges and kick-started his musical career.
MEDIA CONTACT INFORMATION: [email protected]
Paul Griffin
SAER
[email protected]
Visit us on social media:
Facebook
Twitter
Instagram
YouTube
TikTok
Other
NYC by SAER


Originally published at https://www.einpresswire.com/article/645858641/saer-set-to-release-nyc-a-spellbinding-love-letter-to-new-york-on-july-28th-2023