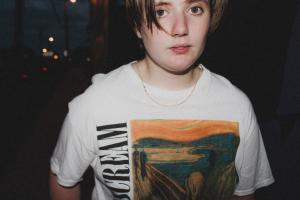 LA Weekly features Indie-Pop artist Sid Dorey, emphasizing their anticipated "Alien Party" track and its significance in the LGBTQ community.
In these transformative times, Sid's ascent in the music domain stands as a testament to the broader cultural shifts taking place, challenging the status quo while celebrating diversity."
— LA Weekly
LOS ANGELES, CALIFORNIA, UNITED STATES, October 5, 2023 /EINPresswire.com/ — Sid Dorey, Nashville's standout Indie-Pop artist, is gearing up for a significant release with their latest track, "Alien Party", timed to coincide with National Coming Out Day. The song, a celebration of the non-binary and trans experience, promises to be a game-changer, reflecting universal themes of belonging and self-acceptance.
As anticipation builds around "Alien Party", LA Weekly recently turned its spotlight onto Sid, drawing attention to their impactful voice in today's music arena. The piece celebrated Sid's artful blend of deeply personal experiences and broader societal narratives, describing their work as a refreshing touch of authenticity in an industry often clouded by artifice.
Discussing the significance of "Alien Party", Sid shared with LA Weekly, "What I like about this song coming out on National Coming Out Day is it is a celebration but also the truth about how it feels to be non-binary." Such revelations hint at the track's depth, promising listeners a unique blend of relatability and introspection.
LA Weekly's coverage also delved into the challenges Sid faces as an LGBTQ artist in the industry. Despite occasional pushbacks, Sid remains resolute, using their platform to champion authenticity and challenge industry norms. Their journey, as covered by the publication, isn't just about personal triumph but signifies broader cultural shifts in music and society at large.
As Sid Dorey readies to drop "Alien Party", the music world waits with bated breath. The combination of a promising new track and acknowledgment from respected publications signals a bright future for this rising star.
Pre Save Alien Party, releasing October 11th.
Hazel Rose
de Castellane Creative
+1 949-409-4700
email us here
Visit us on social media:
Instagram


Originally published at https://www.einpresswire.com/article/659990550/la-weekly-showcases-sid-dorey-a-non-binary-voice-pioneering-change-in-contemporary-music