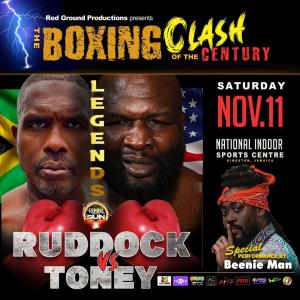 Grammy Award-winning Artist Beenie Man is the headlining performer for the Rumble In The Sun match between Donovan "Razor" Ruddock and James "Lights Out" Toney.
KINGSTON, JAMAICA, November 3, 2023 /EINPresswire.com/ — On Saturday, November 11, inside Kingston's National Indoor Sports Centre, Grammy Award-winning International "King of the Dancehall" Beenie Man and Jamaican-Canadian Heavyweight Boxing Champion Donovan "Razor" Ruddock are uniting at the Rumble in the Sun event to pay homage to Jamaica as the birthplace to some of the world's most influential sports and music entertainers. Beanie Man will light up the stage with a powerhouse performance as Razor marks his epic return to the boxing ring to compete against International Boxing Hall of Fame Inductee and Champion James "Lights Out" Toney in his first-ever match in Jamaica. More details are available on the event website at www.rumbleinthesun.com.
"Being on the same stage with the legendary Donovan "Razor" Ruddock is a blessing," says Beenie Man. "This fight is something Jamaica has needed for a while, and I'm happy to be part of it." Born and raised in Waterhouse Kingston, Beenie Man's innate love for Jamaica and dancehall music has inspired popular singles "King of the Dance Hall," "Girls Dem Sugar," "Feel It Boy" and "Dude." In September 2023, he released his highly-anticipated 17th studio album "Simma," which the Recording Academy is considering for the 2024 GRAMMYs Best Reggae Album Award.
Before his family relocated to Toronto, Canada, Donovan "Razor" Ruddock started polishing his signature "smash" hybrid left-hand punch in St. Catherine Jamaica, where he attended the Red Ground District primary school. Ruddock and his daughter Kleopatra Ruddock, CEO of Red Ground Productions, the event organizer, launched the idea for the Rumble in the Sun boxing match to raise funds for much-needed renovations for the school and to accentuate his partnership with the Gloves Over Guns initiative.
"Boxing has always been a way for me to celebrate Jamaica as my natural birthplace and the origin of my career," says Ruddock. "Competing in this boxing match is one of the greatest gifts I can offer my country, school and people."
The Jamaica Boxing Board and Ministry of Culture, Gender, Entertainment and Sports proudly endorse Rumble in the Sun. The event will be broadcast live on pay-per-view via cable and satellite networks from the FITE by Triller global sports and entertainment digital platform.
About Donovan "Razor" Ruddock

Donovan "Razor" Ruddock has undoubtedly established his legacy as one of his era's most formidable and relentless heavyweights. The hard-punching Canadian top contender is most known for fearlessly challenging former undisputed Heavyweight Champion Mike Tyson twice in 1991 and his terrifying knockouts of former WBA Heavyweight Champions Michael Dokes in 1990 and James "Bonecrusher" Smith in 1989. Through two decades of boxing, Ruddock achieved an honorable career of 47 professional fights with 40 wins, six losses and one draw.
About James "Lights Out" Toney

James "Lights Out" Toney is an American former professional boxer noted for his outstanding defense and smooth counter-punching from 1988 to 2017. He held world championships in three weight classes, including the IBF and lineal middleweight titles from 1991 to 1993, the IBF super middleweight title from 1993 to 1994, and the IBF cruiserweight title in 2003. Toney is also revered for brazenly battling some of the sport's giants, such as Roy Jones Jr., Evander Holyfield and Mike McCallum. He has rightfully earned a tribute to be inducted into the International Hall of Fame.
About TRILLER:

Triller is the AI-powered open garden technology platform for creators. Pairing music culture with sports, fashion, entertainment, and influencers through a 360-degree view of content and technology.
About FITE:

FITE by Triller is the premium global platform for live sports and entertainment offering many of the industry's marquee PPV events to more than 7M registered users. Additionally, FITE offers exclusive subscription packages such as AEW Plus in select regions, and FITE+, the Best Value in Combat Sports, Worldwide. Consumers can stream FITE globally through its iOS and Android mobile apps, Apple TV, Android TV, ROKU, Amazon Fire TV and Huawei apps. In addition, FITE supports Samsung, LG, Cox Contour, Vizio SmartCast, Virgin Media, Shaw Communications; Blue Curve IPTV, Foxxum, Chromecast, PS4, XBOX, ZEASN, Netrange, Vidaa/Hisense, VEWD/ TiVO, Netgem TV, Comcast's Xfinity 1 and Xfinity Flex, as well as more than 7,000 models of Smart TVs. FITE also offers a free ad-supported FAST channel called FITE 24/7 both on and off platform. Visit FITE online at www.FITE.tv. Follow us on Twitter/X, Instagram, YouTube, LinkedIN, Facebook, and Threads. FITE is owned by Triller Hold Co LLC.
Nicole Brown
Rumble in the Sun
+1 941-281-0520
email us here
Visit us on social media:
Facebook
Twitter
Instagram
YouTube


Originally published at https://www.einpresswire.com/article/666131628/global-king-of-the-dancehall-sensation-beenie-man-headlines-the-rumble-in-the-sun-boxing-event-in-kingston-jamaica