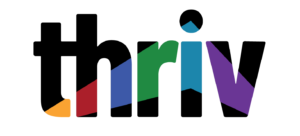 Horizon is proud to sponsor Thriv, where you learn how to nourish your physical and mental well-being. The event aligns closely with Horizon's mission to help our members achieve their best health."
— Jonathan R. Pearson, Executive Director Horizon BCBS NJ
ATLANTIC CITY, NEW JERSEY, USA, October 13, 2023 /EINPresswire.com/ — Thriv is coming to Atlantic City, NJ this weekend. The show is full of fun and inspiration for baby boomers and gen Xers thinking about how you want to spend your time and energy now. The experience includes a mix of energizing, motivating, intriguing, humorous, educational, and supportive programming, and entertainment, covering:
• Activities and entertainment

• Financial options and issues

• Health and wellness

• Relationships and community

• Travel, leisure and hobbies
For those who want to write their next chapters—celebrating and looking forward

Thriv is a resource for people like you who are looking to flourish through the next phases of life. We reach people who are dynamically aging from 45 years and up, moving on, who are making choices and spending money. Hear amazing stories from celebrities:

• Kelsey Grammer, Frasier

• David Burke, Celebrity Chef

• Michael Clinton, ROAR

• Gaby Natale, Pioneering
"We have packed two days full for people who want to explore new ideas, make new connections, and have fun," says Martha Donato, CEO, Founder and President of MAD Event Management, which is co-hosting the event. "Here you'll find inspiration for how you want to spend your time and energy now, and information you need to make choices for your future. Bring your sense of curiosity and humor!"
Bringing something special to Atlantic City, NJ

Today's adults are living longer and healthier than previous generations. Midlife is the time to enjoy all life has to offer. It is also time to take care of yourself and have fun. Bringing the event to Atlantic City exposes the community to a huge audience of enthusiastic like-minded people.
"Horizon is proud to sponsor the inaugural Thriv Live event in Atlantic City to promote and learn about healthy aging, and how to nourish your physical and mental well-being" said Jonathan R. Pearson, Executive Director of Community Affairs at Horizon Blue Cross Blue Shield of New Jersey. "This new and unique event aligns closely with Horizon's mission to help our members achieve their best health."
"Thriv is one-of-a-kind, and we are thrilled to partner with this team to bring this event to Atlantic City and serve this age group," stated Larry Sieg, President and CEO of Visit Atlantic City.
Interested in attending? Visit www.Thriv.live
###
About Thriv

Thriv is a supportive community offering connections with like-minded people and access useful information for those ready for new adventures, evolving with changing circumstances, seeking to enhance life today, and who are writing their next chapters. MAD Event Management is a founding partner, deeply involved in the creation of Thriv. It is an all-purpose event planning and production company whose principal owners have over 60 years of experience producing large-scale conventions, conferences and tradeshows around the country www.madeventmanagement.com
About Visit Atlantic City

Visit Atlantic City is a 501(c)(6) organization formed and funded as a public-private partnership by the Casino Reinvestment Development Authority (CRDA) to create economic development through conventions, sporting events, film production and group tourism. Visit Atlantic City focuses on three primary objectives: sales, marketing and services.
For complete Atlantic City tourism and convention information, visit www.visitatlanticcity.com. Follow us on Facebook, Twitter, Instagram and LinkedIn.
Media Contact: Martha Donato, President, MAD Event Management LLC, +1-845-545-0653, [email protected]
Martha Donato
MAD Event Management LLC
+1 845-545-0653
email us here
Visit us on social media:
LinkedIn
TikTok
Gaby Natale interview
Originally published at https://www.einpresswire.com/article/661632921/thriv-expo-launches-this-weekend-in-atlantic-city