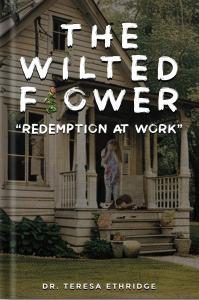 The Wilted Flower
HEMET, CALIFORNIA, USA, October 13, 2023 /EINPresswire.com/ — "The Wilted Flower" is a compelling and thought-provoking novel that takes readers on an extraordinary journey filled with intense emotions, riveting narratives, and profound revelations. Crafted by a talented author, this book invites readers to explore new dimensions in storytelling.
From the very first page, "The Wilted Flower" immerses readers in a world teeming with raw emotions and profound truths. The author's skill in depicting reality with such authenticity creates a unique reading experience, captivating the audience with the story.
This narrative delves deep into the complexities of the human spirit, touching on themes such as redemption, resilience, and the enduring strength of the human soul. As the story unfolds, readers will encounter thought-provoking questions that encourage reflection and ignite the imagination.
"The Wilted Flower" serves as a testament to the power of storytelling and its ability to evoke a wide range of emotions. It beautifully portrays the fragility of life, the transformative journey of self-discovery, and the inherent hope that resides within us all. This book inspires readers, prompting them to consider their own capacity to persevere and appreciate life in all its forms.
With its captivating storyline and evocative prose, "The Wilted Flower" is a recommended read for those in search of a profound and enriching literary experience. Whether you are an avid reader or new to the world of literature, this book is sure to resonate with you on a deep level.
About the Author
Dr. Teresa Ethridge, a native Louisianian, was born on January 6, 1962. She arrived in the state of California in 1963, unfortunately, transitioning from a small town to the metropolis of Los Angeles came with many pitfalls. By the age of 16, she had been exposed to the perils of city life and observed decadence that no child should have been exposed to. Victimized by incest, physical abuse, and rape she experienced painful traumatic experiences that took her on an inevitable journey of dysfunctional behavior.
Yet while inside the clutches of Psychological confinement, she defied all odds related to survival and gained her personal freedom. Dr. Ethridge has obtained three associate degrees in the field of Ministry, Paralegal, and Theology. Her continued academic quest resulted in earning a Bachelor of Science in Christian Education, and a Bachelor of Science in Psychology, an Addictions specialist at Liberty University. Fighting onward to regain her sense of purpose, she now holds a Master's degree in Christian Education, and Master of Arts in Marriage Family Therapy and Licensed Professional Clinical Counseling, National University, and finally Doctorate in Theology, Ministry, Christian Leadership University and an Honorary Ph.D. from Next Dimension University.
Notwithstanding, and additionally, she holds a certification as a Registered Addiction Specialist I, Peer Specialist, as well as a National Credentialed Youth Mental Health First Aid Instructor, and US Institute of Diplomacy Human Rights Consultant. Dr. Ethridge is an educator, motivational speaker, Therapist, and Mental Health Consultant. She is a member of the nation's largest accredited leadership honor society in the United States, this candidacy is a nationally recognized achievement of honorable distinction.
Teresa Ethridge
Barnes & Noble Publishers
+1 951-531-6785
email us here
Visit us on social media:
Facebook
Twitter


Originally published at https://www.einpresswire.com/article/654155647/the-wilted-flower-explores-new-dimensions-in-storytelling-with-a-emotionally-charged-novel