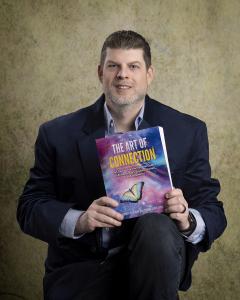 -, -, UNITED STATE, September 12, 2023/EINPresswire.com/ —
The serial entrepreneur has launched a new website that gives more context about his various businesses and speaking engagements.

Most businesses today are profit-maximizing enterprises. However, some go against the trend by incorporating a social aspect. Few businesses are combining business efficiency with social responsibility as effectively as 22 Salute Spirits and Coffee, and Eric Ranks, the CEO and co-founder behind 22 Salute Spirits and Coffee, continues to establish himself as a one-of-a-kind entrepreneur.
Eric started 22 Salute Spirits and Coffee in 2021, hoping to create a sustainable source of financial support for The Veterans Connection , a nonprofit he founded in 2012. Eric got the idea for 22 Salute Spirits and Coffee after speaking with veterans in an entrepreneur mastermind group. Eventually, the idea blossomed, and 22 Salute Spirits and Coffee emerged as a brand that would merge business with a social cause.
Today, the brand showcases veteran-made spirits and coffees and has an online store that delivers in 37 US states. Furthermore, sustained success has also seen the brand operate retail locations in four different states. The company's coffee offerings are also available on Amazon and Walmart's online websites.
Eric's business ventures display his entrepreneurial acumen and prowess. He possesses a unique ability to market and sell products while also focusing on Corporate Social Responsibility. Others have also noticed his business acumen, which has led to numerous public speaking engagements and co-authoring opportunities.
Eric recently launched a revamped version of his website at www.ericranks.com. He hopes his website inspires other entrepreneurs and authors while sharing his exploits with the world.
In conversation, Eric shared, "An entrepreneur's life isn't easy, and I have come a long way from where I started. I'm immensely proud of my entrepreneurial journey so far, but I feel like the best is yet to come because 22 Salute Spirits and Coffee is destined for even bigger things. I also look forward to helping other entrepreneurs by sharing my experiences with them. Thus, I'm available for speaking engagements. My website also contains excerpts and links to my books, which might hold some value for those interested in business."
Those interested in learning more about Eric Ranks, hiring him for a speaking engagement, or learning more about his books can do so via the contact information below.
About Eric Ranks

Eric Ranks is a serial entrepreneur, award-winning author, and motivational speaker. He's also the Co-Founder and CEO of 22 Salute Spirits and Coffee and Founder and Executive Director of The Veterans Connection.
Contact Eric Ranks

Eric Ranks Website: www.ericranks.com

Eric Rank
–
+1 (307) 381-2249
email us here
Visit us on social media:
Facebook
Twitter
LinkedIn
Instagram
YouTube


Originally published at https://www.einpresswire.com/article/655333693/serial-entrepreneur-public-speaker-and-best-selling-author-eric-ranks-launches-his-new-website