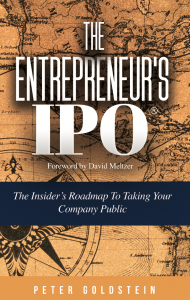 Seasoned entrepreneur and first-time author, Peter Goldstein, is set to reveal his long-awaited book at Web Summit in Lisbon, Portugal this week.
NEW YORK, NEW YORK, USA, November 13, 2023 /EINPresswire.com/ — Joining him at this pivotal event will be none other than entrepreneur, author and speaker at Web Summit, David Meltzer, who has contributed the foreword to Goldstein's upcoming book, The Entrepreneur's IPO: The Insider's Roadmap to Taking Your Company Public ($15.99, paperback, 979-8-98917110-1 and $22.99, hardcover, 979-8-98917111-8)
The Entrepreneur's IPO presents a groundbreaking perspective, revealing that the path toward making an entrepreneurial growth company public is much closer and more within reach than often perceived. It sheds light on the substantial influx of capital that can propel growth, expand operations, and create countless market opportunities.
Peter Goldstein is the CEO of Exchange Listing, LLC and a trusted IPO advisor with a track record of empowering entrepreneurial leaders. With a passion for helping companies achieve their full potential, Goldstein shares his expertise in his upcoming book, providing readers with the necessary knowledge and strategies to successfully navigate the intricate journey of pursuing a micro- or small-cap IPO.
In addition to the book unveiling, both Goldstein and Meltzer are slated to speak at the Web Summit this week, offering attendees an opportunity to gain valuable insights from their expertise. Web Summit is recognized as one of the foremost global tech conferences, attracting a diverse array of industry leaders, entrepreneurs, and innovators. Goldstein and Meltzer's participation promises to be one of the highlights at the event, attracting attention from attendees worldwide.
The Entrepreneur's IPO is also available for pre-order online on Amazon.com and Barnes & Noble. Book release date is November 21, 2023.
For more information on Peter Goldstein and Exchange Listing, LLC, visit www.exchangelistingllc.com.
Michelle Almonte
Exchange Listing, LLC
[email protected]
Visit us on social media:
LinkedIn
Originally published at https://www.einpresswire.com/article/668263585/peter-goldstein-to-unveil-highly-anticipated-book-at-web-summit-alongside-foreword-contributor-david-meltzer