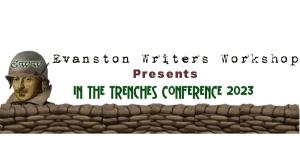 Educators from all facets of the literary and academic communities come together to empower aspiring writers and help them reach their full potential.
The good work that Evanston Writers Workshop is doing is what drew me to participate this year. I'm thrilled to be a part of a conference helping aspiring authors. Looking forward to it!"
— Carlos Ferro, Author and Actor
GLENVIEW, IL, USA, October 3, 2023 /EINPresswire.com/ — The distinguished group of contributors includes:
1. Soman Chainani – A bestselling author known for "The School for Good and Evil" series, bringing his magical storytelling expertise to the conference.
2. Carlos Ferro – A celebrated voice actor and performer recognized for his roles in popular video games, Carlos Ferro's dynamic presence will energize conference participants.
3. Sherrill Bodine – An accomplished author with a passion for romance and mystery, Sherrill Bodine will share her insights and experiences with budding writers.
4. Kathy Lyons – A prolific author known for her historical and contemporary romances, Kathy, writing as Kit Chen is coming out with a series of children's books and will appear with her renowned children's book agent Joyce Sweeney from the Seymour Agency.
5. Jill Wine-Banks – A legal expert, author, and political analyst, Jill Wine-Banks will share her journey as a writer, offering a unique perspective to aspiring authors.
6. Jaime Freveletti – An acclaimed thriller writer, Jaime Freveletti's expertise in suspenseful storytelling will captivate conference participants.
7. Professors from Columbia University – Esteemed educators from one of the world's most prestigious institutions, Columbia University, will provide academic insights to foster writers' growth.
8. Agents and Editors – Seasoned professionals from the literary world will offer their expertise in navigating the publishing industry, helping writers refine their craft and navigate the path to publication. They will also be taking pitches from the attendees, searching for that next runaway best seller.
In the Trenches 2023 conference endeavors to bridge the gap between emerging talent and established professionals in the literary industry. Attendees will have the opportunity to participate in workshops, panels, and one-on-one sessions with these luminaries, gaining invaluable knowledge and networking opportunities.
The conference organizers express their deep gratitude to these generous individuals who have dedicated their time and expertise to support the next generation of writers. Their commitment exemplifies the spirit of collaboration and community in the world of literature.
About Evanston Writers Workshop:

Evanston Writers Workshop is a 501(c)3 not-for profit committed to nurturing writers and fostering a supportive community. Our mission is to empower writers to fulfill their literary dreams while providing opportunities for growth, collaboration, and creative exploration.
Event Details:

• Event: "In the Trenches Writers Workshop" sponsored by Evanston Writers Workshop – not for profit

• Date: November 2-5, 2023

• Location: Hyatt Regency, Glenview IL

• Registration: Register now at www.inthetrenches2023.com. $100 discount if you book a room (available until the room block sells out)
For more information, please visit www.inthetrenches2023.com or contact Debbie Fligelman at [email protected] for inquiries.
Debbie Fligelman
Evanston Writers Workshop
+1 224-999-0201
email us here
Visit us on social media:
Facebook
Twitter
LinkedIn
Instagram


Originally published at https://www.einpresswire.com/article/659205838/celebrities-authors-and-literary-professionals-donate-their-time-to-not-for-profit-writer-s-conference