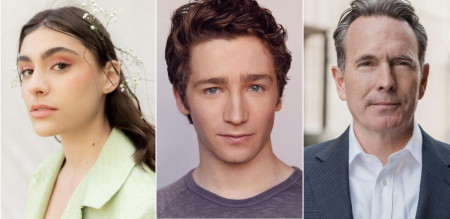 Press Release
•


updated: May 22, 2023

Yasmeen Fletcher (Ms. Marvel), Cooper Roth (Never Have I Ever) and Todd Terry (Breaking Bad) are set to star in American Spirit, an indie drama from newcomer writer/director, Christopher Yates.

LOS ANGELES, May 22, 2023 (Newswire.com)
–
Written by Christopher Yates, American Spirit follows intrepid college student, Melody (Fletcher) as she reunites with former high school boyfriend, Jonathan (Roth) after a party gone awry. As the two reconnect, they reflect on what went wrong with their relationship and their own culpability in its aftermath. The film explores questions of identity and evolving iterations of self, as well as timely conversations around the transition from youth into adulthood.
Terry will play Professor Bolton, one of Melody's professors she and Jonathan discover to be in a bleak marital rut. Fletcher, Roth and Terry are also joined by Mackinlee Waddell, playing Riley: Melody's best friend, closest confidant and poorest influence.
Sabrina Zahir will produce alongside Yates through their banner, Fridge Poet Pictures. Production kicks off in Austin next month.
Fletcher most recently starred as Nakia Bahadir on Disney+'s Ms. Marvel. She will next star alongside John Cho, Alex R. Hibbert and Mina Sundwall in the indie drama, The Graduates, premiering at Tribeca Film Festival next month.
Roth appeared opposite Colin Farrell in the second season of HBO's True Detective and will feature in a recurring role in the upcoming season of Mindy Kaling's Never Have I Ever. Roth is also a filmmaker and will graduate from USC's School of Cinematic Arts this year.
With a career spanning three decades, Terry's recent credits include the role of Austin Ramey in AMC's Breaking Bad and Better Call Saul, as well as Netflix's El Camino: A Breaking Bad Movie. Terry is also known for his role as Det. Travis in Amazon's Vindication, as well as Lee in AMC's Fear the Walking Dead.
Fletcher is repped by Authentic Talent and Literary Management, Play Management and Shelby Weiser at Sloane, Offer, Weber & Dern; Roth by Matt Sherman Management; and Terry by Campbell Agency, Take 3 Talent Agency and Treasure Coast Talent Agency.
Source: Fridge Poet Pictures
Originally published at https://www.newswire.com/news/yasmeen-fletcher-cooper-roth-todd-terry-board-indie-american-spirit-22041946