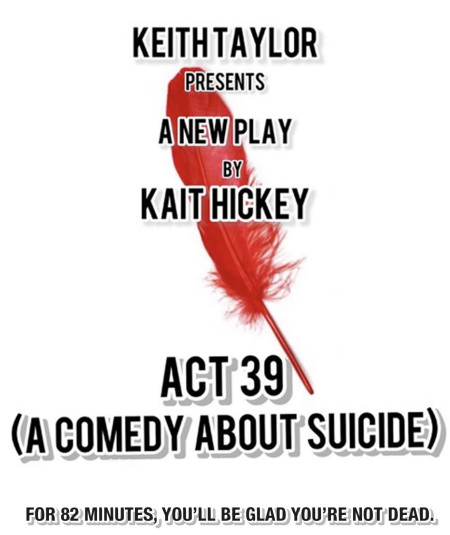 Press Release
•

Aug 10, 2023
The Controversial New Play Will Run for a Strictly Limited 7-Show Engagement Beginning Friday, August 11.

NEW YORK, August 10, 2023 (Newswire.com)
–
K8T Theatricals is proud to announce that its latest production, Act 39 (A Comedy About Suicide) – the controversial new play by up-and-coming playwright Kait Hickey – will open at NYC's Tank on August 11 for a strictly limited, seven-show engagement.
Directed by Stephen Sposito (The Book of Mormon, Wicked, Shrek), Act 39 is the intensely personal story of an Irish-Catholic mother with terminal cancer who – against the provisions of her faith – has decided to put an end to her suffering via Assisted Suicide and her estranged daughters (one delusional, the other mentally-ill) who've come to say one last goodbye – if they can stop fighting long enough to do it.  At turns hilarious and heartbreaking, the play is both a scathing commentary on the state of mental healthcare in America and a testament to the strength of the American family, especially in times of crisis.
To learn more about Act 39 (A Comedy About Suicide) or to be among the first to experience this must-see show, please visit Act39.com.
Source: K8T Theatricals Inc.
Related Media
Originally published at https://www.newswire.com/news/act-39-a-comedy-about-suicide-directed-by-book-of-mormons-stephen-22102941