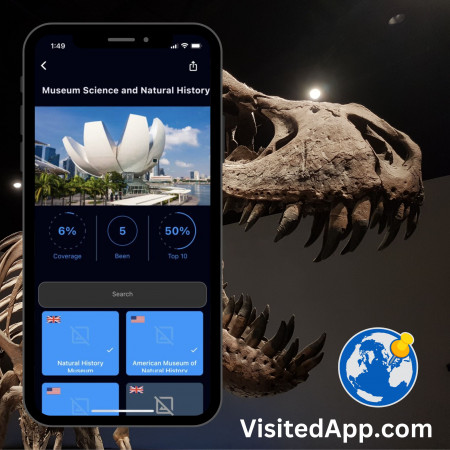 Press Release
•

May 12, 2023
Visited, A popular travel app with Over 1.6 Million Users, publishes top 10 of the Most Visited Museums of Science and Natural History Based on User Data

TORONTO, May 12, 2023 (Newswire.com)
–
The travel map app Visited by Arriving In High Heels Corporation has published a list of the top 10 museums of science and natural history in the world. The Visited app allows users to mark off where they've traveled around the world, set travel goals, and get personalized travel stats and a custom map of their travels. 
These are the most visited places according to the travel app Visited: 
The Natural History Museum in London is the most visited museum of natural history, with exhibits exploring 4.6 billion years of Earth's history. 
The American Museum of Natural History in New York City, U.S., draws tourists with exhibits on the natural world, including the popular dinosaur halls. 
Smithsonian National Museum of Natural History in the U.S. capital of Washington, DC, has renowned exhibits, including a butterfly hall, dinosaur exhibit, and human origins exhibition.
Science Museum London has award-winning exhibits, IMAX screenings, and interactive displays.
The National Air and Space Museum in Washington, DC, has the world's largest collection of space and aviation artifacts.
Museo Civico di Storia Naturale di Milano is a natural history museum with extensive life-sized dioramas in Milan, Italy.
The Museum of Science and Industry in Chicago is the largest science center in the Western Hemisphere.
Deutsches Museum in Munich, Germany, is the world's largest museum of science and technology.
Museum of Science is a science museum and indoor zoo with interactive exhibits in Boston, Massachusetts.
NEMO Science Museum is a science center in Amsterdam, Netherlands, with five floors of exhibits on topics ranging from planetary science to humankind. 
To browse more top travel lists in a variety of categories, see the most popular destinations, and create a personalized travel map, users can download Visited on iOS or Android. 
Get the full Visited 2022 travel report for more travel stats with the most visited destinations based on U.S. and international travelers. To learn more about the Visited Map App, visit https://visitedapp.com. 
About Arriving In High Heels Corporation
Arriving In High Heels Corporation is a mobile app company with apps including Pay Off Debt, X-Walk, and Visited, their most popular app.
Source: Arriving In High Heels Corporation
Originally published at https://www.newswire.com/news/5-out-of-the-top-10-most-visited-museums-of-science-and-natural-22036548